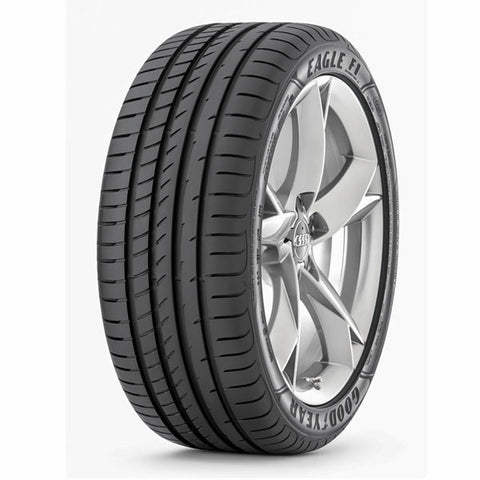 GOODYEAR TYRE - EAGLE F1 ASYMMETRIC 2 - RUN FLAT
Characterised by its ActiveBraking technology, Eagle F1 Asymmetric 2 tyre is an addition to the sports performance passenger segment that delivers up to three meters shorter braking distance. The braking performance offers superb grip on both wet and dry roads, allowing you to enjoy a smooth, swift and silent ride under all weather conditions.
Superior Braking Performance

Superior Grip
Wet performanc
FEATURES AND BENEFITS
Enhanced Road Traction

Innovative 3-D block design in the tread expands when the vehicle breaks, offering enhanced tyre-to-road traction.

More Stopping Power

Cross plies carcass structure increases torsional stiffness around the braking axle for boosted stopping power.

Enhanced Wet Grip

Race-inspired tread compound provides exceptional grip on wet roads.
*Compared to the average performance of three leading competitors. Braking distance on wet road from 80km/h to 20km/h, measured by TVSD Automotive in December 2010; Tyre Size: 255/40R19; Test Car: Audi A7; Location: Mireval (FR) & Garching (GE); Report nr: 76244706-1.
The Eagle F1 Asymmetric 2 received the highest recommendation in various independent tests by experts and magazines across Europe immediately after its launch, including top scores in 2011.
"Very Recommendable?" Auto Zeitung (Germany)
Goodyear Worry Free Assurance
This program protects your Goodyear tyres against road hazard damages.
TYRE REPLACEMENT ENTITLEMENT PERIOD & CLAIM
Tyre replacement entitlement is applicable within 6 months from the date of purchase and remaining tread depth must be more than 5.5mm. When making a claim, you must present the following to the dealer where the tyre was originally purchased:
Goodyear Worry Free Assurance program card

Details in the card must be completed.
Keep the "Customer Copy" for your future reference

Original receipt of purchase
Damaged tyre that requires replacement
For more information on the Worry Free Assurance program, please visit:
Goodyear Worry Free Assurance program
---
We Also Recommend