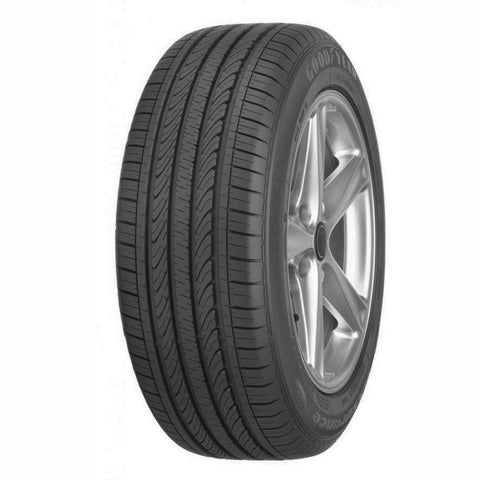 GOODYEAR TYRE - ASSURANCE TRIPLEMAX
Designed for mid-sized passenger vehicles,delivering Maximum Wet Grip, Maximum Control and Maximum Braking Ability. the new Goodyear Assurance TripleMax tyre was developed to provide drivers with increased peace of mind and shorter braking distances, particularly when driving in the rain. HYDROGRIP Technology allows drivers to reduce braking distances by more than 2 meters on wet roads compared to other tyre in the market today

Excellent Handling

Fuel Economy

Superior Grip
Wet performance
FEATURES AND BENEFITS

HYDROGRIP Technology
Reduces braking distances by more than 2 meters on wet roads
 

 

What is behind HYDROGRIP Technology

 

Functionalized Polymer Tread Compound for Maximum Wet Grip

An innovative functionalized polymer tread compound with improved molecular bonding gives the Assurance TripleMax the extra edge to take grip to a whole new level on wet and dry roads.




Wide Face Cavity for Maximum Control

Larger surface area contact and optimized pressure distribution on key block elements on the Assurance TripleMax tyre improves rubber contact with the road, giving drivers more control during braking.




Biting Edge Large Blocks for Maximum Braking Ability

Equipped with biting edges with large block elements, the new Assurance TripleMax tyre has an increased road contact area for extra security when braking.
Other Features and Benefits:
Fuel Saving Technology
Compared to the average performance of 2 leading competitors. Braking distance on wet road from 80km/h to 20km/h, measured by TVSD Automotive in November 2012;Tyre Size: 205 /55 R16 -91V. Test Car: Toyota Auris; Location: FAKT Memmingen, Germany; Report No. 76250397

Goodyear Worry Free Assurance
This program protects your Goodyear tyres against road hazard damages.
TYRE REPLACEMENT ENTITLEMENT PERIOD & CLAIM
Tyre replacement entitlement is applicable within 6 months from the date of purchase and remaining tread depth must be more than 5.5mm. When making a claim, you must present the following to the dealer where the tyre was originally purchased:
Goodyear Worry Free Assurance program card

Details in the card must be completed.
Keep the "Customer Copy" for your future reference

Original receipt of purchase
Damaged tyre that requires replacement
For more information on the Worry Free Assurance program, please visit:
Goodyear Worry Free Assurance program
---
We Also Recommend